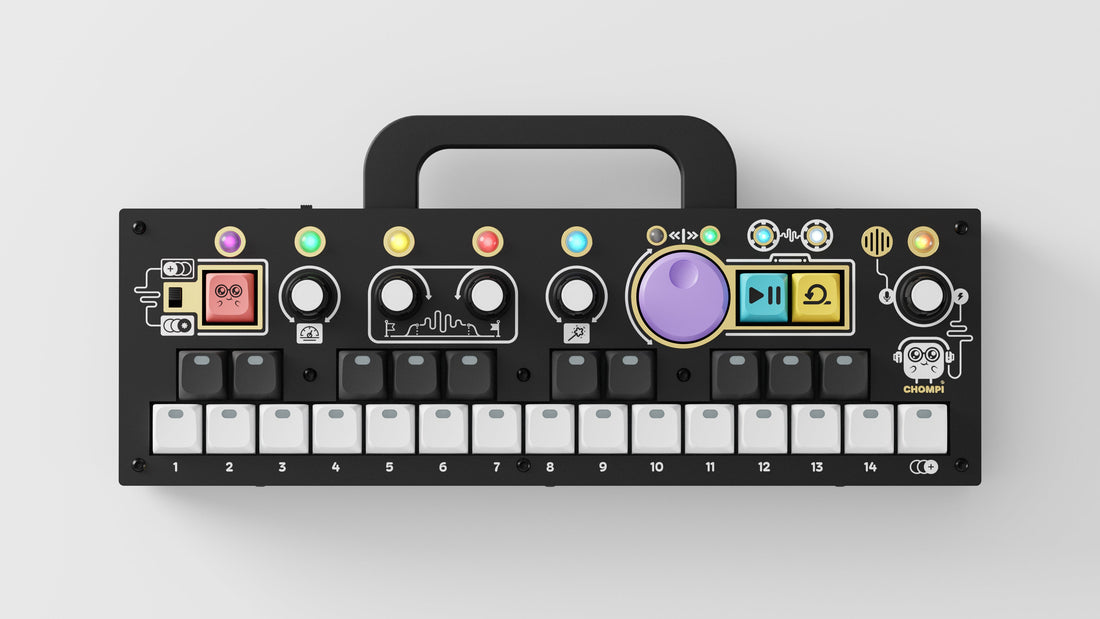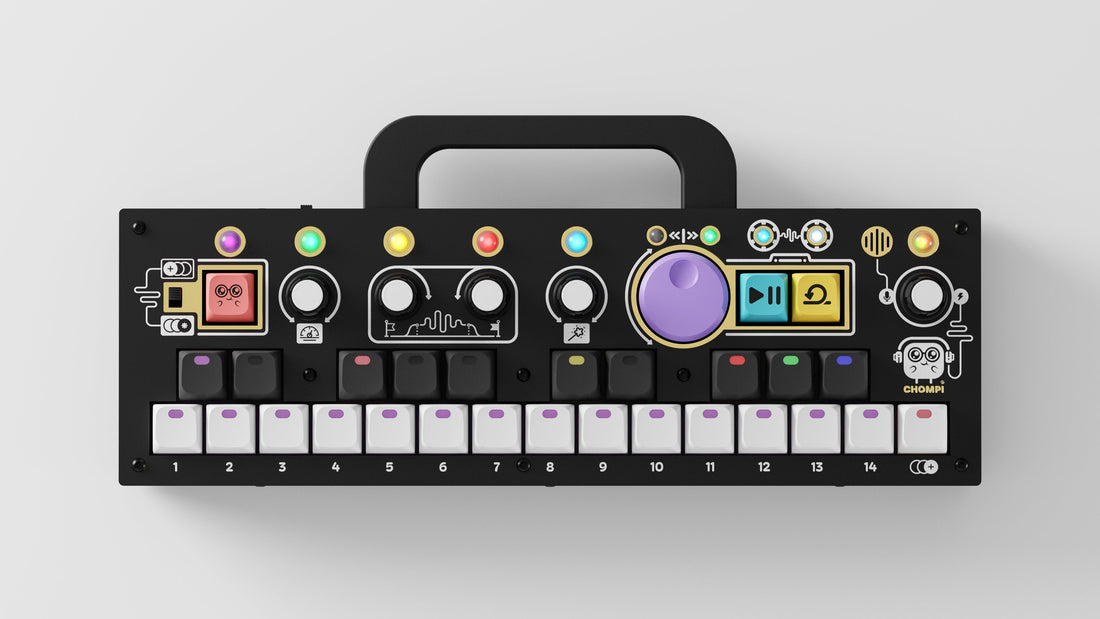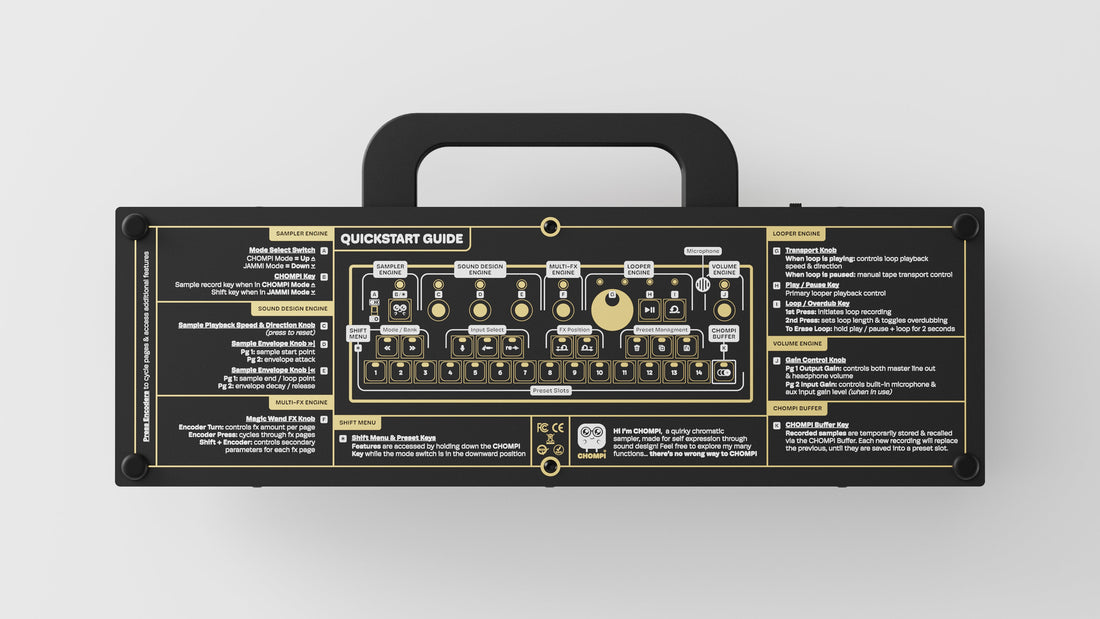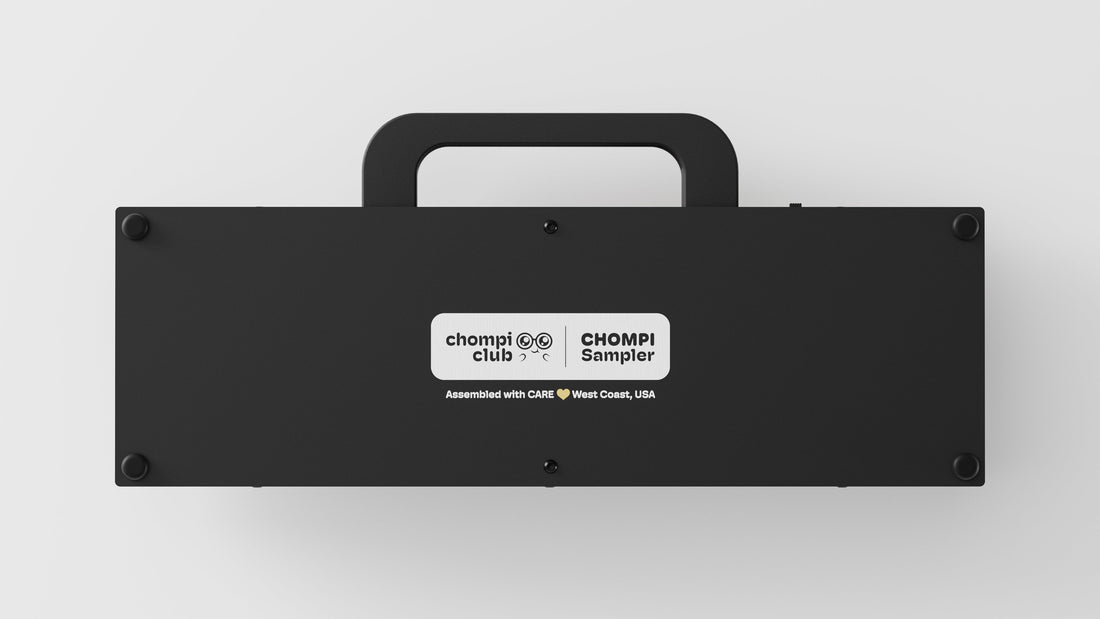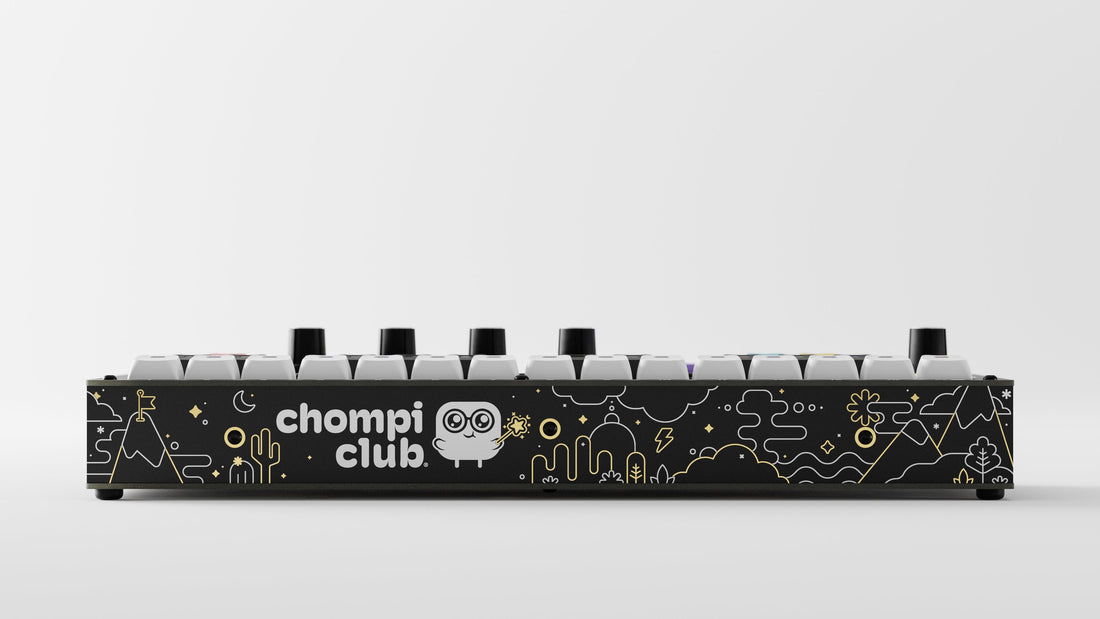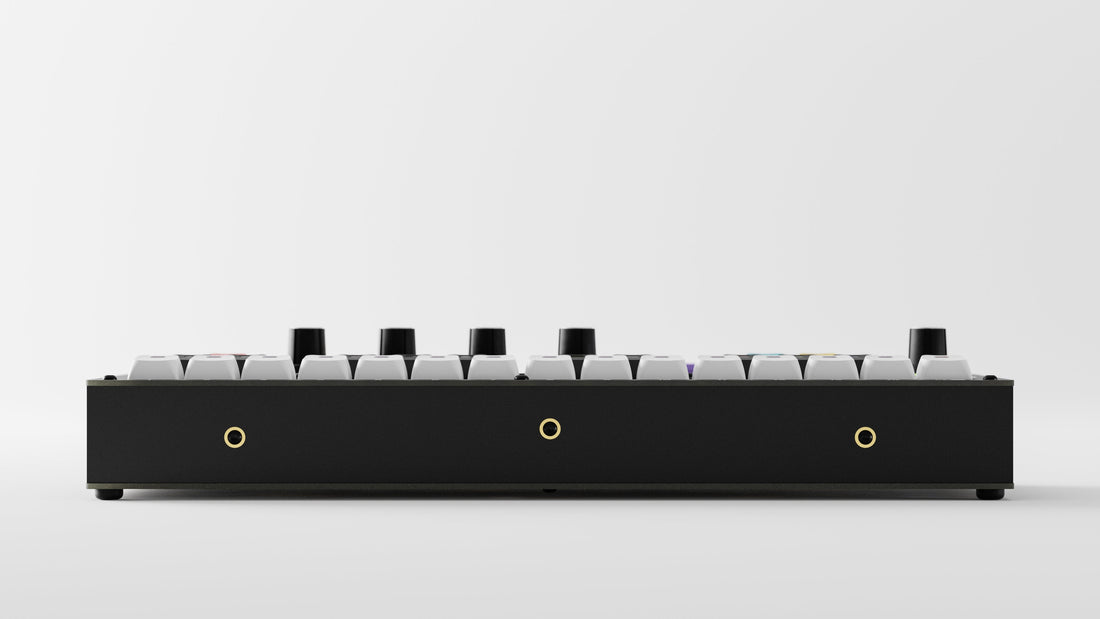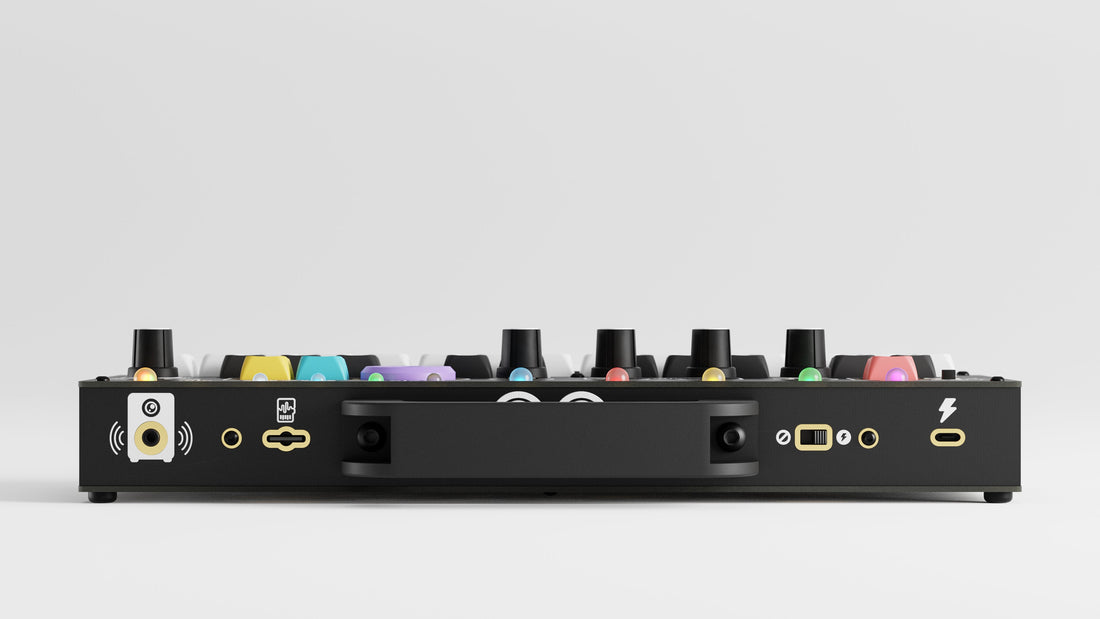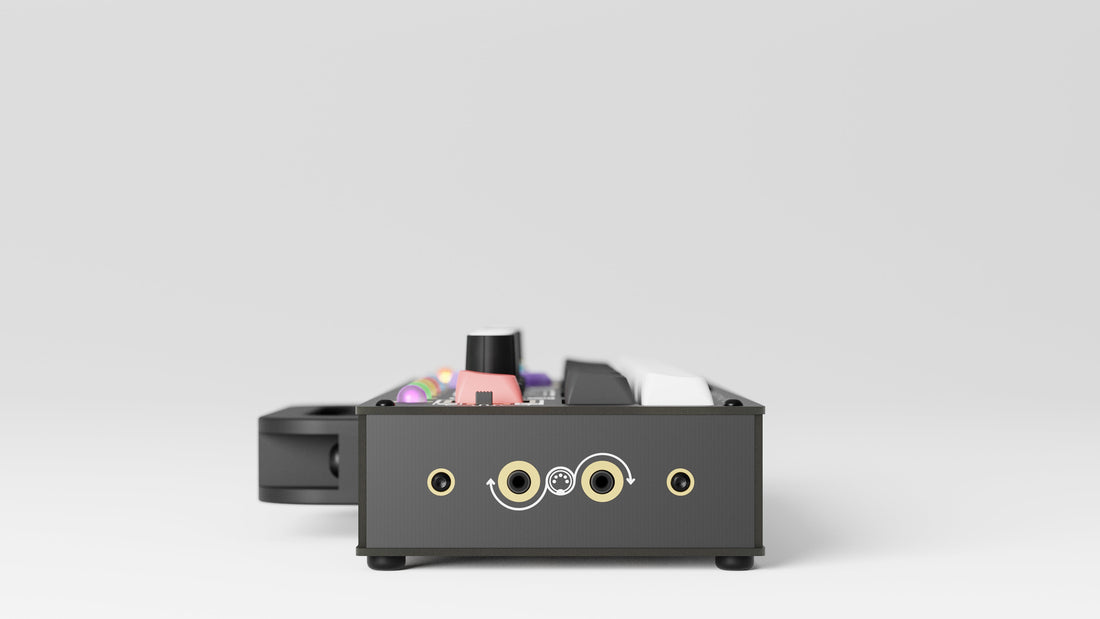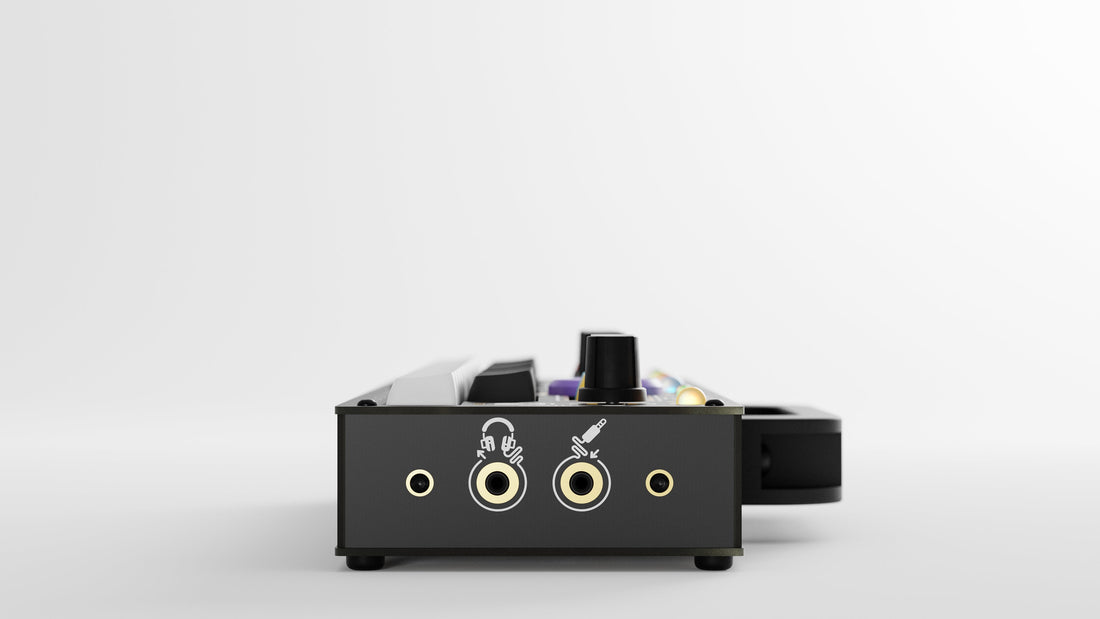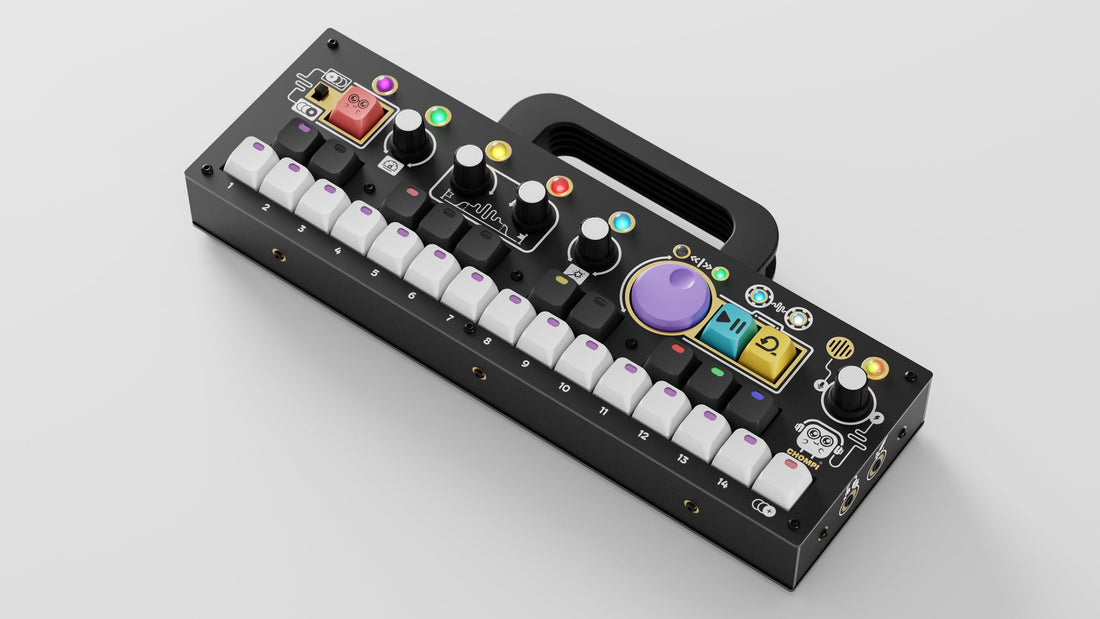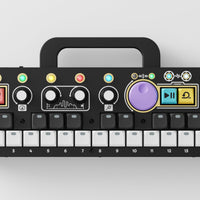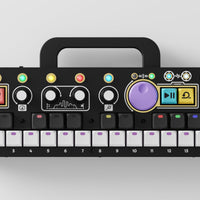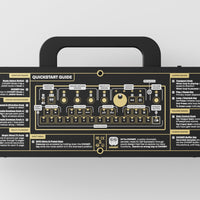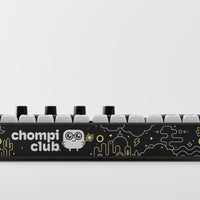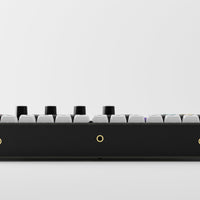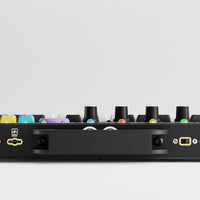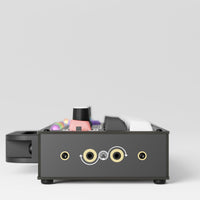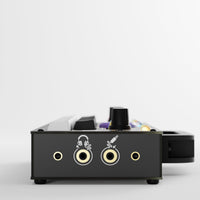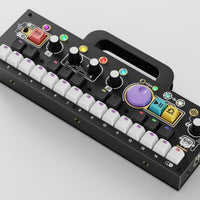 CHOMPI is a quirky, Chromatic Sampler and Tape Music Instrument, made for Self-Expression Through Sound Design.
• With its one of a kind sampling engine, unique multi-effects and tape style looper, CHOMPI is ready for immediate FUN.
• CHOMPI is also aesthetically customizable! The instrument is encased in our Black & Gold modular panel enclosure, which allows you to upgrade your CHOMPI at any time with our color-way bundles to match your unique personal aesthetic (additional color-ways sold separately, available 2024). 
• We've put special care into sourcing quality materials, but we also love customizing our devices and thought you might too. The Hot-Swap enabled mechanical keyboard is built on MX-Cherry switches (Silent Reds) and the Keycaps can be swapped and customized till you get the vibes just right (if you're into that sort of thing ;)
• CHOMPI is both  durable & portable, with a built-in rechargeable battery... making it the perfect musical companion to accompany you on your next adventure ⚡️
⚡️ Flexible HARDWARE Platform
• CHOMPI is built on the powerful Daisy platform (by Electro-Smith) unlocking easy firmware updates, and flexible programmability options. 
• Unique SCREENLESS WORKFLOW w/ RGB LED indicators & endless switching encoders for multi-page parameter controls
• Utilizes the widely popular MX Cherryswitches for its Hot-Swap enabled, two octave keyboard(switches & keycaps are customizable)
• Custom Panel Enclosure allows for aesthetic customization with future limited edition colorways
🤍 Quirky SAMPLING Engine
• Unique Sampling Workflow Encourages User Exploration
• 7 Voice Polyphony
• 85 Slots to Save/Recall Presets
• ~6hrs of Total Sample Storage on Micro SD Card
• SAMPLE Playback Speed & Direction Controls
• SAMPLE Start & End Point Controls (w/ Additional Attack + Decay Envelope)
• Single Knob Multi-FX Section (Multi-Mode Filter, Lo-Fi Saturation, & Combo Delay-Reverb)
📼 Sophisticated Tape-Style LOOPER
• One of a kind SOUND-ON-SOUND stereo looping engine
• Iconic transport knob provides control over: Manual Tape Scrubbing, Loop Playback Speed / Direction, as well as other additional easter eggs to be found by advanced users
🎛 Plays Nice With Others :)
• USB-C Power & Rechargeable Battery allow for maximum portability
• Built-In MICROPHONE
• Micro SD Card for Managing Samples
• 3.5mm Stereo Aux Input
• 3.5mm Stereo Line Output
• 3.5mm Headphone Output
• 3.5mm and/or USB-C Midi In & Out
Not just a sampler
CHOMPI is designed to evolve! We've built this instrument to be as flexible as possible... with multiple firmware options planned for the future. As the community grows, so will the possibilities!
Powerful DSP Platform
In the future, we'll be releasing multiple firmware options to choose from... but if you'd like to take things even further, we'll also be offering a couple example programs for those who might like to design their own firmware.
Workflow Matters
We know first hand how problematic tiny screens can be for visually impaired folks, so we wanted to create an inviting and accessible screenless interface, with big buttons and big knobs for maximum fun!